History of Lyell Deer Farm and the Birth of Kupidabin Cultural Association Inc.
The original ancestors of the land that is now Kupidabin Wilderness were the Garumungar people, from the Wakka Wakka language group.
My Husband Des and I purchased 40 acres of Land in 1980 at Samsonvale, now called Mt. Samson. Situated 10kms from Samford on the North side of Brisbane,  35 minute drive North / West from the City of Brisbane in Queensland. We  named the property "The Lyell" as the valley, hovered over by Mt. Samson looks identical to 'The Lyell', A gold mining town built on a mountain side above the Buller River on the West Coast of New Zealand. The original Lyell was pioneered by my Great Grandfather in the 1860's.
Des and I established our deer farm in 1984 purchasing 20 red deer from a deer farmer at Togoolawah. They were wild deer trapped from the bush. Deer farming was in its infancy and our income was made by selling breeding stock to new farmers coming into the industry. I held the position of Secretary of the Queensland Deer Breeders Association for 10 years, then moved on as Secretary of the Qld. Deer Breeders Cooperative until taken over by the Victorian Co-op.
The land at Mt Samson beautiful as it was, was not suitable to grow crops for food. After continuing drought resulting in high cost for supplement feed for 180 Red Deer we decided to sell the majority of our deer, sub divide the land and open to the public. In 2004 the land was sub divided into 5 Blocks of land. Lots 2-4-5-6-7. Three Blocks 2 -4 -7 had to be sold to pay for the road constructed to Pine Rivers Council Specifications, now maintained by Moreton Bay Regional Council ( MBRC).  Lot 5 is the family residence, Lot 6 the farm. Lot 7 came back on the market after 12 months. Land values had increased dramatically. I knew I had to buy this land back what ever the cost. It was 10 acres of virgin bush, untouched and felt very " Special." Price had doubled since we sold the property but it didn't matter to me. With the help of a family member, Lot 7, Property now named 'Kupidabin Wilderness' was  purchased.  Kupidabin is the Aboriginal word for 'Place of Possums'.  I knew this land, protected under the State Government (E.P.A.) Environmental Protection Act as a Rare Eco Region, had to be kept in its natural state for all people to be able to come and enjoy the beautiful surroundings towered over by Mt. Samson. The land was blessed by Aboriginal Elder Uncle Tex Chapman on the 7th. February 2005, giving permission for all nations to come on the land.  We invite members of all Cultures to join us with ideas to build and develop the land for cultural activities in keeping with the environment. The land does not have any Cultural Heritage sites but is a sacred place for people of all nations to come in 'Peace and Harmony'  to learn and share their traditions with each other.
It was the beginning. In 2005 Lyell Deer Farm commenced cultural activities on the land including Fairy Festivals for the children. Following the first multicultural gathering in November 2007 when our Medicine Wheel was created in Tiwa/Hopi tradition by Native American Medicine Woman Verlinda Montoya, Mato Ta Pejuta Wakan Nawjin, (translation: Bear Medicine Standing Sacred), I realized my vision was becoming a reality. The Medicine Wheel has the power and the ability during ceremony to connect us to powerful spirits, spiritual harmony and our own healing. A ceremony was held on the 8th November 2008 with Aboriginal and Maori Elders participating to burn the prayer sticks which were created by the participants in 2007, powered and blessed in the traditional Lakota Inipi Sweat Lodge and used in the Medicine Wheel Healing Ceremony.  To develop further and continue we needed to raise funds.
In 2008 I gathered together Friends of Lyell Deer Farm who were supporting our work, formed a Committee and applied to the Office of Fair Trading for a 'not for profit' organization status. Applied again in 2009 for the Association named Kupidabin Cultural Association to be Incorporated. Programs just keep on developing with more people becoming involved. A very good relationship has formed with Indigenous Elders over the years. Lyell Deer Farm has been a major sponsor over these years and our aim now is to build a strong Committee for Kupidabin Cultural Association Inc to continue in the future to grow and follow our Mission Statement aims and goals. Any support by way of Contribution or Sponsorship  will go a long way to help preserve our unspoilt environment and keep our Sacred land once the home of our Aboriginal Ancestors a haven for native wildlife, a Place of Peace and a Place for sharing the traditions of Indigenous, Native American, Maori and other cultural groups through their music, ceremonies and ritual interconnectedness with our great Mother, planet Earth for generations to come.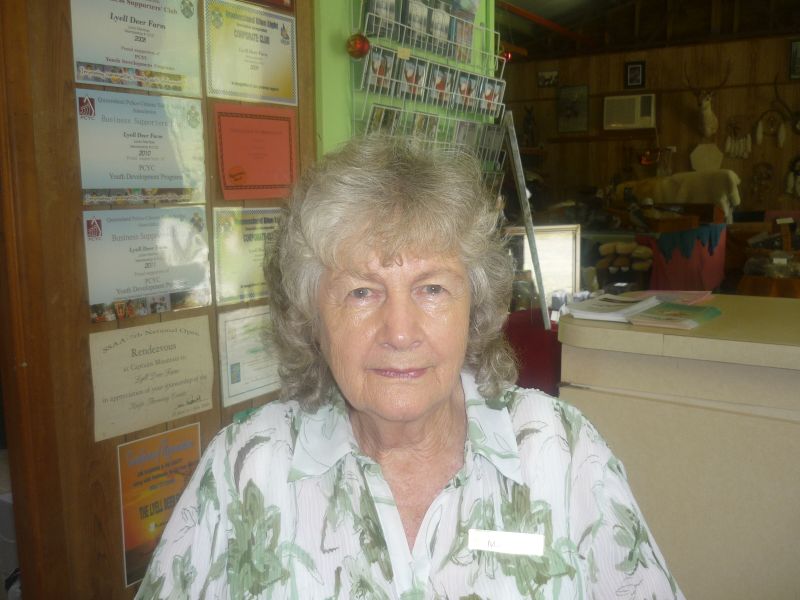 Maureen in her office/Shop at the Lyell Deer Farm 2011
January 2012 Lyell Deer Farm had a name change to Lyell Deer Sanctuary in keeping with the ambience of the land, a Sanctuary for native wildlife and the quiet hand reared deer who reside here to provide an attraction for Seniors, Families and Children. Another very 'Special Time' for me in September 2012, when a visit from Dianne Ryan who had gathered together 12 Woman for a 'Special Project' to create something beautiful prior to December gave me an opportunity to offer to her group a Sacred Women's Space on Kupidabin Wilderness to create a beautiful Labyrinth. The Project  '12 Women in 2012' was a forum created by Janneke Koole inviting women all over the planet to work together in an adventure to create beauty in their world. Deadline was 17th. December 2012. It is an honour to have this project created on our land where it will be respected for all time for its beauty and purpose.  The design was a Hopi Labyrinth. I am looking forward to 2013 – What wonderful happenings will this New Year Bring ??.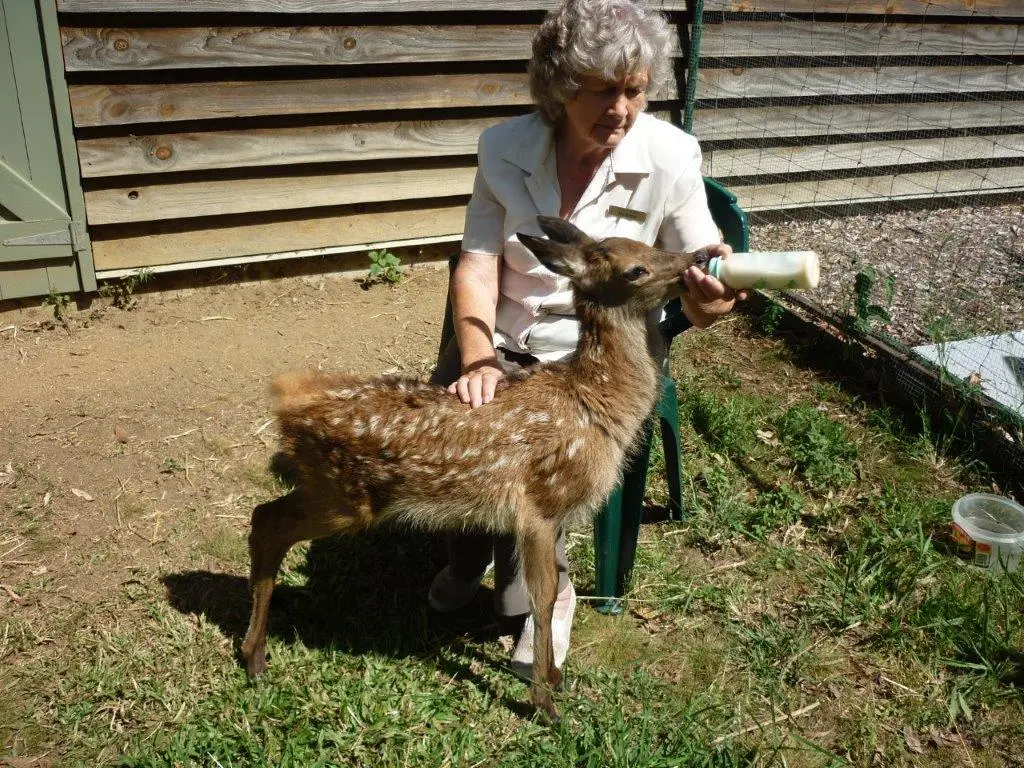 Arna a Rescue Red Deer Fawn. Feeding her at the Lyell Deer Farm
2013 – 2014.
The main focus in the later part of 2013 was the organizing and publicity of our 4th Bi-Annual  Gathering of the Four Winds. 8th/9th/10th. November with a cultural trip to "Nungeena ' Aboriginal Women's Centre at Glasshouse Mountains. 11th. November. Another very successful event.  The week prior on 2nd. November 2013, another major milestone was the 'Official Opening of Kupidabin Cultural Association Inc Indigenous Art Centre.'  " One Centre – Many Cultures"  was the motto adopted. A Maori carving in Camphor Laurel – Design Niho Taniwha (Dragontooth Notch) wth Paua Shell Eyes ( Mata-a-ruru)  "the-eyes-of-the-owl." was erected over the doors to the Art Centre.  Kia  Kotahi  Tatou   " Unite as One People."  6th. July 2014. K.C.A.I. First  NAIDOC  Day was held in recognition of Indigenous Australians in the Defence Force. The Power Point Presentation was researched and presented by Teresa Pyne. 25th / 26th  July  we had an  AKOAKO Booking  for the use of our Cultural Centre by Harata Te Amo – Simeon to facilitate her Maori Language Class. 34 Maori Students and 4 tutors attended. Bookings hwere taken for 2 Indigenous Youth Camps 'Young Warriors Intervention and Leadership Program' Boys 29th.-31tst. August  / Girls Camp 10th – 12th. October 2014. 16 Aboriginal and T.S.I. Students from Foster Homes in Caboolture,  Redcliffe and Deception Bay registered for each camp.  The Important Highlights of this Year: K.C.A.I. was listed on the Register of Cultural Organizations and Kupidabin Development Fund was eligible to receive tax deductible donations and write receipts dated back to July 2013. – DGR advice received in August 2013.
Funding Applications to :
Samford District Progress Association  for 6 Tables and 50 Chairs.   $810 Successful.
Samford Bendigo Bank Community Bank.  $1,000 donation for white goods.
Community Benefit Fund $9,750.00 for water tanks, pumps, fire Hose, etc.
Donation was received plus Flags from Senator Mark Furner for NAIDOC.
Donation of Office Supplies were also received when the Senator closed his Office end of June after a 6 year term as Senator for Queensland Multicultural Affairs.
Donation of a First Aid Kit and Burn Kit received from KCAI Member Gail Tumataroa
Donation of gas B.B.Q. from Dale Shuttleworth M.P. for fundraising.
Donation of 5 Maori Paintings from Nina Maika for fundraising.
Donation from Adriana Gimenez for paint and her time creating the Artwork on the Cultural Centre. She gave me the 'Wow Factor" I was asking for.!!
Donation of the Glass doors on the Cultural Centre from Daniel Gimenez.
At the April 2014 General Meeting a Motion was approved to Sponsor a  'Pamper Day'  for Aboriginal Grandmothers through Dulcie Bronsch Senior Indigenous Project Officer for Community Uniting Care.
2014/2015
Funding applications were very successful.
The Hon. Jarred Blejjie  MP. Attorney and Minister for Justice advised of the successful Grant application  from the Gambling Community Benefit Fund for water tanks (3)  pumps (2) Fire Hose  and reticulation pipes. Amount $9,570.00
A successful application was put in to Samford Progress Assoc. Inc for 3 Flag Poles the amount of $990.00 was awarded.
May 2015 Advised by Mark Furner MP. successful Grant from Queensland Government Dept of Community Affairs for $9,650.00 enabled the purchase of a' 6 seater people mover 'to provide  service to  visiting  Elders. A great asset for Kupidabin.
May 2015  A Grant for $1,000 was received from the Samford Bendigo Community Bank to concrete a disability ramp for the People Mover access to the Culture Centre.
 May 2015  $1,500  received from Samford  Progress Assoc  for the shortfall of funds for floor coverings in the Cultural Centre.
Cultural Events held at Kupidabin Wilderness.
Akoako Maori Language Class booked again for their 'end of year' Class 28th.-30th. November 2014. Rebooked  again for a Class of 32  – July 2015.
Sharmanic Retreat with Frank Ansell Elder and Nungkari (Healer) from the Central Australian Desert 5th-7th. December 2014.
Indigenous Elders Mystery School with Mulara 11th. – 15th February 2015. 16  attendees – Local and from Interstate.
K.C.A.I. Draft Development Plan coordinated by the Secretary and Clare Ward and WPHS Policy Document submitted by Daniel Gimenez was signed  by the President and Secretary, October 2014.
K.C.A.I. Orientation Day was held 22nd November, attended by our Patron Mark Furner MP. and Samford Bendigo Bank Manager Bronwyn Fitzpatrick.
29th May 2015. A small Gathering was held, sponsored by K.C.A.I. Patron Mark Furner MP. to give recognition and support to the 2015 Reconciliation Week and also the Inaugural raising of the Flags – Australian, Aboriginal and Torres Strait Island.
Floor coverings for the Cultural Centre sponsored by S.D.D.P.A. and House of Carpets at Morayfield were laid in time for the Inaugural  Creative Samford Arts Trail.
K.C.A.I. Indigenous Art Gallery and Cultural Centre were open to the public for the four weekends in June. Maori workshops with Nina and Flute Playing workshop with Claudia were well attended.
Highlight of the New Year. January 2015. Proposal from Steve McKenzie for the position of Care Taker of Kupidabin Wilderness and Cultural Coordinator K.C.A.I. was accepted by the Des and Maureen (Owners of the Land) and the Committee. Steve commenced building his Mongolian Yurt in March 2015.
January 2015 Cultural Centre was at Lockup stage with the help of Maori Builders to erect the steel doors.
August 2015 Plans for M.B.R.C. Council approval were drawn up by draftsman Bob Hastie for front Veranda – breeze way and storeroom for the Cultural Centre (still to be built).  August/September, final preparations being made for K.C.A.I. 5TH. Bi-Annual Gathering of the Four Winds. November 2015. Showcasing  A Program of Multicultural Performances and Indigenous Workshops and Ceremonies.
2016 Progress Report and Change of Direction to Come. !!!!!
March 31st 2016. Meeting with Mark Furner M.P. Patron of K.C.A.I.  Re the lack of support shown to the Founders of K.C.A.I. by  the Members and the suggestion by the current President to discuss changes to the Mission Statement and Objects of the Association as set down in the Constitution and Rules of Kupidabin Cultural Association Inc. Meeting with Maori Elder Uncle Wattie with advice to write to Dame Quentin Bryce and invite her to visit Kupidabin Wilderness with the intent to discuss a new direction for the future of the land to be a refuge for domestic violence victims in Queensland.  No response was received .
K.C.A.I. Annual General Meeting. 21st. September 2016. Secretary's Report.
This is my last report as Secretary of K.C.A.I. looking back over the last 9 years my Annual Reports have been full of Progress and Achievements by members and our committee. They were good times. This Financial year 2015 – 2016 has been very successful but unfortunately lacking in support from our members. K.C.A.I. Financial Year is from 1st. April 2015 – 31st March 2016. During this time we held 8 General Meetings average attendance 7 including the Management Committee. No Meeting held November 2015.  No Meeting in March 2016.
Following the Meeting in September 2015, a great deal of time was spent organizing the 5th. Bi-Annual Gathering of the Four Winds. Feedback received "This was the best Gathering yet" A lot of this was due to the presence of Navajo Elder and Priest Wind., also Aboriginal Elder Wiruungga and Aunty Jenny Thompson with their teachings.  he Opening Ceremony was very well attended by the local community, interstate and overseas visitors staying the weekend and friends and families of the entertainers. Weekend Participants – 60, plus 20 Elders and Carers.  Members 7 plus the working committee 6, with catering over the 3 days by  Maori Chief Taane and his wife Wendy.
Month of June 2016 K.C.A.I. took part in Creative Samford and Surrounds Arts Trail. The Four Winds Indigenous Art Gallery was open to the public 5 days.- 3 out of the 8 days (4 weekends) was very heavy rainfall. 56 visitors over the 5 days signed the survey report.  Thank you to Tamika and Vanessa (new members) for making the visitors welcome over this period.
July 10th K.C.A.I. held another very successful event,  NAIDOC  – Theme  Songlines; the living narrative of the Aboriginal and Torres Strait Island Nations, sponsored by Moreton Bay Regional Council. With the help of Aunty Jenny Thompson. I put together an application to M.B.R.C. for funding. Only 3 organizations in the region applied. K.C.A.I. received a Grant of $3,000 for the day. Letters of support from Mark Furner MP. Ferny Grove Electorate. Howard Neilsen Managing Director Samford Commons,  The President of Creative Samford and Reverend Jennifer Thompson greatly contributed to the success of our application.
August 29th. I was sad but happy to see the Lyell Deer Sanctuary sold to a young family who wish to follow in our footsteps keeping the Sanctuary open for senior groups and families to visit.
Lyell Deer Farm / Sanctuary has been a Sponsor for Kupidabin over the years providing catering facilities etc.
Due to circumstances arising this month Des and I will not be signing another lease with K.C.A.I.
KUPIDABIN will remain a Place of Healing, Peace and Harmony for People of All Nations to  Come. The New Committee will decide the New Direction of the Association and I will support them in the decision they make. My sincere thanks to all the Members who have supported Des and I all these years.
General Meeting  19th.October 2016
12 Financial Members attended  and voted to wind down Kupidabin Cultural Association Inc.  A New Committee was not elected.
2017  – New Beginnings.
Kupidabin will remain as intended to be available to all with 'Good Intent and Respect for the Land'  administered by Maureen, Des and Family. (Owners of the Land) for 12 months to decide which direction we would be going.
June / July 2017  Plans underway for a New Program for the 6th. Bi-Annual  Gathering of the Four Winds.  Theme "New Beginnings"
2017 was a beautiful year with complete Peace and Harmony working with our loyal supporters. The Gathering in November " New Beginnings" was very different and a very successful event.
2018  – 1st. February my vision has come to fruition with the establishment of a Perpetual Foundation. – Kupidabin Wilderness  'Not for Profit'  Foundation, Administered by The Pickstone Family with Volunteer Members.
2021 – A Change of Direction. Due to Family circumstances, Maureen and Des made the move to register Kupidabin Wilderness with the A.C.N.C. Australian Charities and Not for Profit Commission and was certified on 21/12/21 as a Charitable Trust to protect the Land
The Trust is known as Kupidabin Wilderness Charitable Trust ( The Trust) and will be maintained in Perpetuity for Public Charitable Purposes. ( Cannot be Sold)
The Trust has 4 Trustees and a Multicultural Advisory Committee from 12 different Nations
Registration has also been made with the Qld Office of Fair Trading and The Federal Government for Taxation Concessions
The Land Blessed by First Nation Elder Uncle Tex Chapman in 2005 will remain for Generations to come for Families of all Nations who need to be here to enjoy the environment and regain Peace and Harmony in their lives and share their traditions as he predicted.
September 13th 2023 – The Qld Office of Fair Trading approved the Revival of KCAI ( 2008-2016) Kupidabin Cultural Association Inc.
The Application was submitted by KWCT Advisory Committee Kupidabin Wilderness Charitable Trust. Des and I are very happy to see this happen to strengthen the Foundation of our Legacy to our local Community and to the City of Moreton Bay. This is the end of our Journey and we have done a round trip now we need another strong Committee to continue to guide KCAI through the next Generations. We are looking to increase our Membership to run the Association as in previous years.
If you have the time and desire to be part of a fast-growing 'not for profit' Organization and help form a strong Committee to make sure my Vision to develop Kupidabin Wilderness as a Place of Peace, Love, Care and Unity for all People for Generations to come eventuates, please send your EOI (Expressions of Interest) to our KCAI Secretary Gina Hudson Email ginahud35@gmail.com to be reviewed at their next meeting.
You can also be a Member and support KCAI from afar – there are many ways of communication.!!
MAUREEN PICKSTONE
FOUNDING TRUSTEE
KUPIDABIN WILDERNESS CHARITABLE TRUST (KWCT)
Taken from editorials written by Maureen Pickstone